Attractive, risk-adjusted returns
Emphasizing capital preservation in difficult markets, and believing in the ability to compound returns by limiting losses.
Active risk management
Seeking managers with a combination of fundamental research ability, dynamic risk management and trading acumen — because these managers are more likely to stay liquid and protect capital in times of stress.
Control of size
Making significant allocations to managers that control their asset size — making them generally more liquid and flexible. By identifying talent early, we can negotiate favorable terms and future capacity.
Transparency
Fund information is always shared with investors; Titan's investor relations team provides extensive detail on portfolio holdings.
Our Manager Selection Process





Our Strengths
In-depth coverage of managers via fully staffed analyst team
Careful research and analysis is critical to investment selection. As our firm has evolved and expanded, our research team has grown as well: The team consists of 20 members who average 20+ years of experience and provide in-depth coverage on 5 to 10 invested managers each.
Committed to transparency, research professionals share notes among the team, as well as with our Custom Solutions investors via our proprietary technology platform.
Operational due diligence is too critical to be outsourced. Our four-person team is active in pre-investment manager vetting and provides regular and ongoing review. The team has veto power, and is headed by a Titan principal who is an active participant in all company investment decisions.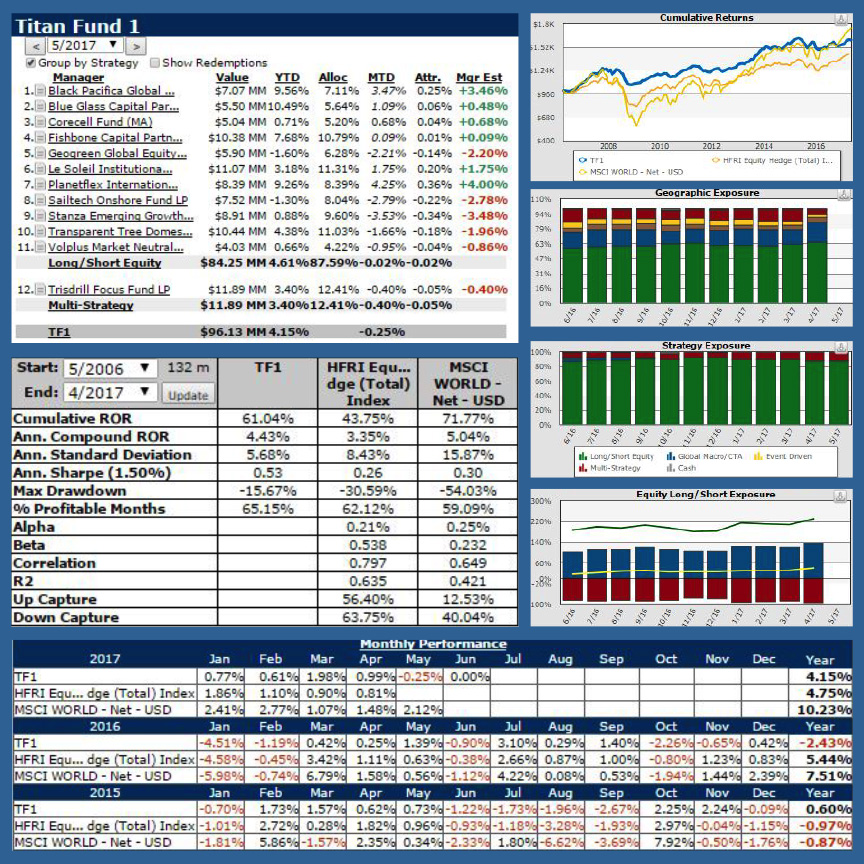 Titan's proprietary technology enables us to share information and research in real time across our teams, and with our Custom Solutions investors, as the accounting, research, risk and operational departments continuously update the system throughout the day.
Uniquely, Titan employs several on-staff programmers to maintain and enhance the platform.
* For illustrative purposes only.  The funds, securities, strategies and performance reflected in this model do not relate to the funds currently offered by Titan Advisors, LLC